Why Should I Home Stage?
Providing home staging services in north Orlando and Daytona Beach, many have asked why they should stage their home before putting it on the market.  Staging brings the competitive edge to other real estate listings.  It leaves the guesswork out of a potential buyer's mind.  They no longer have to try to imagine how they would live in the home — they can visualize it.
Staging a home is for every price point.  After all you're marketing your most expensive asset.  You will want it to show well so you quickly eliminate your month-to-month carrying costs.  Please do avail yourself to the Home Staging Savings Calculator to see how much you can personally save by home staging.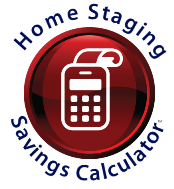 Affordable options for staging include:
Walk and Talk Consultation
The Walk and Talk Consultation is the perfect solution for the DIYer where the homeowner takes detailed notes of the home stager's recommendations.
Written Consultation
The Written Consultation documents your home staging consultation and includes photos specific to your home.  The homeowner may either implement the recommendations on their own, or a return trip is made to conduct an Occupied Staging.
Occupied Staging
Once the homeowner has accomplished the items from a home staging consultation, the home stager returns and showcases your home.  The homeowner's personal belongings are used along with any items purchased from the suggested shopping list from the Consultation.
Vacant Staging
Vacant Stagings are provided for key rooms which are the first room seen when entering the house (living or family room), dining room, kitchen, guest bathroom, master bedroom and bathroom.  Depending on the client's needs, additional spaces may be staged as well.
Professionally staged homes:
Look better than other homes on the market
Spend 73% less time on the market
Typically sell for more money
Look better in print and Internet ads
Receive more foot traffic
End up on a buyer's "must see" list
Are viewed by buyers as "well maintained"
Are "move-in" ready
Have less reasons for buyers to ask for concessions
Professionally staged listings "STAND-OUT" in prospective buyers' minds.
Click on our Home Staging Services page to learn more about Foxy Interiors' offerings.
Foxy Interiors would be pleased to help you address the needs of your home to prepare it for the real estate market and achieving a speedy sale.  Contact us today for a consultation at (407) 314-5076.